Blog Archives
I have preliminary results from the science fiction readership survey. Cheers to everyone who participated!
You should be able to see Google Form's summary by going to https://goo.gl/forms/kvzVgZ75h7ZIiUv03
For my fellow quant nerds, I started a repository with the raw data and my preliminary statistical analysis https://github.com/longhunt/sci_fi_survey
Over the next couple weeks I will be figuring out what it all means and writing a report, which I will also post. I did notice a couple of things right away, though:
1) More than half the respondents self identify as librarians. Apparently, librarians like to take surveys about libraries…
2) Series related factors are the most important to the majority of readers. People want to continue reading series they have started or start new series with lots of books available at the library.
3) The respondents cluster rather neatly into two groups, which we can call "Heavy Readers" and "Moderate Readers". The heavy readers seem to skew female and be more educated–though probably not as much as it seems from the raw data, since we have so many librarians responding (librarians also skew female, and most of them have masters degrees). This seems to agree with the academic literature, such as this article which I found after the survey had already started.
More to come. Thanks again!
Last night my new contemporary fantasy short story went live on Amazon.  You can buy it right here:
The folks at Creative Minority were good enough to do a news blurb about it on their website.  Just to be clear, this story is was not actually published by Creative Minority.  Anyway, I think their post sums things up fairly well:
NON-FICTION WRITER BRANCHES INTO FANTASY

Montrose, CA, May, 19, 2015

Kevin A. Straight, best known for blogging about literature and history and for his monograph Freight Forwarding Cost Estimation: An Analogy Based Approach (2014), ventured into new territory, self-publishing The Phylactery, a contemporary fantasy short story.

"I've actually been writing fiction, including fantasy, since 4th grade," explains Mr. Straight, "I thought it was probably time some of it saw the light of day."

When asked why he chose a to self-publish instead of following a more traditional route, he replied, "I think soon most short fiction, especially genre fiction, is going to be self published. There are relatively few magazines left that handle speculative fiction, and most of them are trying to position themselves in a more literary way. Not that there's anything wrong with that, but it means that there aren't really any good intermediaries for pulp sci-fi and fantasy. If you want to sell it, you're better off selling directly to the readers. Ultimately, I think disintermediation will be a good thing, because readers will have better access and writers will get to keep more of the value from the product."

The Phylactery is set in a slightly fictionalized Riverside, CA in the present day and follows the misadventures of an evil wizard trying to salvage an evil scheme in which everything seems to be going wrong. It is available world-wide in the Amazon Kindle Store.

Kevin A. Straight is currently writing a non-fiction book, 14/2: A History of Outside Scholarship and the Fourteenth Amendment, which will be published by Creative Minority Productions in 2017.
In recent weeks I have been blogging about The History of the Peloponnesian War by Thucydides as part of my ongoing Great Books project to improve my writing.  For non-fiction writing the value of the History is obvious; Not only is it one of our most important primary sources  about the ancient Mediterranean world, but Thucydides' political and diplomatic analysis is also applicable to many other periods and his methods represent a watershed moment in the evolution of the discipline of history itself.  As writers, though, we should never read a history book without asking ourselves what we could take from it and how we could adapt it to create fiction.
History itself is a literary genre; the History and the Novel are first cousins.  In this post, however, I am writing mainly about adaptations of history into genre fiction.  The two modern genres that do this most obviously are historical fiction and alternate history, both of which, fall under the general umbrella of speculative fiction in the currently fashionable nomenclature.
The Peloponnesian War has fueled the creative flames of of many a speculative fiction author.  Not only is it a dynamic and interesting period, but it has the advantage that good primary sources exist, yet not so many of them that a writer can not read all of the important works over the course of a few weeks.  Two modern writers who have handled the period effectively are Rosemary Sutcliff and Harry Turtledove, both prolific writers and acknowledged masters of their respective genres.  Both chose to focus their narrative around the life and career of Alcibiades who, as I wrote last week, is an intriguing character for a number of reasons.
Sutcliff's work, The Flowers of Adonis (1969), is a full-length adult historical novel which follows Alcibiades from the start of the Sicilian expedition to his death.  She draws material mainly from Thucydides, Xenophon's Hellenica, and Plutarch's Life of Alcibiades.  Sutcliff's most characteristic style, seen in most of her young adult novels, is to tell the story through the first person point of view of a single main character, usually a young person who is a minor participant in a historical event.  This technique works well in YA fiction because it makes it easier for readers to relate to the character and immerse themselves in the time and place.  In The Flowers of Adonis, however, Sutcliff abandons this style and tells the story through the first person viewpoints of numerous supporting characters, often switching characters several times in a chapter.  The one character whose point of view and inner thoughts we never see is Alcibiades.  This is an incredibly effective structure because it allows the reader to see how Alcibiades is perceived by his friends, lovers, enemies, and the common people in the city of Athens and the Athenian fleet, yet the reader must draw their own conclusions about the man's thoughts and motivation.  By not showing any of Alcibiades' internal dialogue, Sutcliff avoids conveying an over-familiarity which might undermine the "larger than life" aspect which is such an enduring part of the character's mystique.
Turtledove's work, The Daimon (2002), is an alternate history novella which was written for the anthology Worlds that Weren't and has since appeared in other collections.  Like Sutcliff, he draws heavily from Thucydides and Plutarch.  He also introduces material from Aristophanes' plays and Plato's dialogues.  Like Sutcliff, he starts his story in Athens as Alcibiades and his forces are preparing to depart on their invasion of Sicily.  This is an alternate history, though.  The point of departure from actual history is when Socrates, despite being a bit too old for such adventures, decides to volunteer for the expedition.   This means that when the assembly sends a ship to recall Alcibiades to stand trial for blasphemy Socrates is on hand to advise him to ignore the summons and stay in the field.  Under Alcibiades' leadership the Athenians win the Sicilian campaign instead of suffering the crushing defeat which was the turning point of the actual Peloponnesian War.  This allows Alcibiades to force a Spartan surrender and return home victorious to install himself as a tyrant, changing the entire course of world history.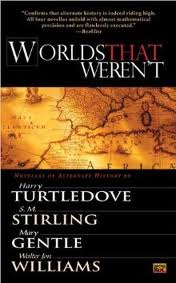 The Daimon differs from The Flowers of Adonis in several important ways.  Being a novella, it covers a single plot arc, in contrast to The Flowers of Adonis which, like most novels, has several secondary plot lines.  Unlike Sutcliff, Turtledove uses a limited third person point of view which follows both major and minor characters.  Besides being typical of his own style, this makes it easy for him to insert narrative details of the historical period, and vivid details are the key to creating believable worlds in speculative fiction.  The most important difference, though, lies in the fundamental question that each story strives to answer.  You can't have speculative fiction without speculating.  The Daimon, while it is certainly character driven, is primarily concerned with causation.  Did the defeat in Sicily cause Athens to loose the war?  Did Alcibiades' absence cause the defeat?  Did the Athenian defeat shape later history?   The Flowers of Adonis, on the other hand, is effectively a 383 page character study of one person.  What did Alcibiades want?  What made him the way he was?  Why did he do the things he did?
Of course historical fiction does tend to be rather concerned with character, while exploration of causation could be considered the purpose of alternate history.  In this case, however, I think the difference flows just as much from the authors' interests and their decision about the kind of story they wanted to tell.
These two works are only two examples, drawn from only two genres, of the sort of fiction an author can create from a historical event like the Peloponnesian War.  The ancient historical works we have about the period provide enough background for an infinite number of stories, told in an infinite number of ways.  Perhaps the next will be written by you or me.